Gov. Diri Wins Bayelsa Governorship Poll . . . I'll Continue To Be Governor For All, Diri Assures Bayelsans
4 min read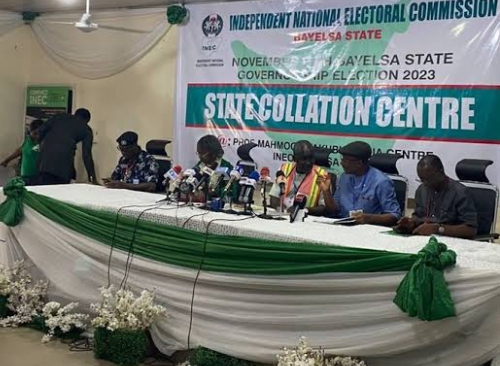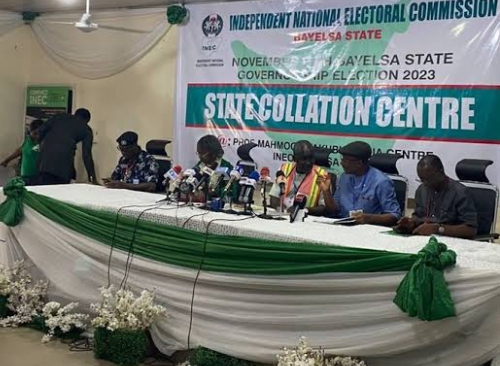 by Oyagiri Chime-emele
The incumbent Bayelsa State governor, Senator Douye Diri has won the Bayelsa state November 11 governorship election.
The Returning Officer, Prof Farouk Kuta said Diri, satisfied all the requirements of law and scored majority of the lawful votes, hence returned elected.
Diri, candidate of the People's Democratic Party (PDP), was declared winner on Monday, November 13, at the state collation centre, Yenagoa.
According to Kuta the PDP candidate polled 175,196 votes to come tops while his closest contender, the candidate of the All Progressives Congress, APC, Chief Timipre Sylva scored 110,108 votes.
While giving the breakdown of the contest, the INEC returning officer said that the PDP candidate scored 175,196 votes to defeat his closest challenger of the APC Chief Timipre Sylva who scored 110,108 votes while the Labour Party Candidates, Udengs Eradiri came third.
The declaration saw supporters and members of the PDP in jubilation all over the streets of Yenagoa.
In his reaction to his been declared as the winner of the gubernatorial poll, Governor Douye Diri assured Bayelsans to continue to be for all and not to any particular political party.
He further urged supporters to celebrate with temperance, as according to him; 'we are one people.'
The re-elected governor who was elated by the INEC verdict, thanked voters for reposing their confidence in his government of prosperity, while giving God Almighty the glory.
In his words: "I address you with a heart full of humility and gratitude as you have again bestowed upon me the honour of serving as your governor.
"This victory would not have been possible without the mighty hand and grace of the Almighty and the overwhelming support you have shown towards me and my Government of Prosperity. I am deeply humbled by your overwhelming expression of confidence and by your mandate to serve you for another four years.
"I want to express my heartfelt appreciation to everyone that cast your vote in my favour and entrusted me with the responsibility of leading our beloved state.
"I urge you all to celebrate with temperance, as this victory is not the exclusive preserve of any one political party. Rather, it is the collective will of a people united towards progress and a better future. Even those who cast their votes differently enriched our democratic practice by their participation and dissent. I reaffirm that I will continue to be the governor of all in Bayelsa State.
"I want to place on record our gratitude to the president of the Federal Republic of Nigeria, H.E. Bola Ahmed Tinubu for allowing the conducive environment for what has been a free, fair and credible election.
"In the same vein, we appreciate the role of most of the security agencies for their professionalism and hard work in providing security for the exercise. We equally commend the Independent National Electoral Commission (INEC) for discharging their responsibility largely creditably.
"As I stated in my inauguration speech, where there is darkness, let us bring light. Where there is hatred, let us bring love. We are too few a people to be polarized and fractionalized along political, clan or other primordial ranks. My determination in fostering unity and inclusivity as we strive to achieve the shared goals and aspirations of our people is undiminished. I eagerly look forward to collaborating with each and every one of you to create a brighter future for Bayelsa."
Governor Douye Diri expressed sadness over the use of thuggery during the electoral process, wondered why people's lives would be sacrificed for the sake of political office.
He condemned the killing of an innocent youth at Twon Brass, and prayed that God gives the family the fortitude to bear the irreparable loss.
Senator Diri said; "It is important to acknowledge that this electoral process has not been without its challenges. Regrettably, attempts by some political actors to hijack the process and undermine the will of the people resulted in the utterly unacceptable infiltration of violence, thuggery and intimidation into our electoral process. Lives of innocent individuals have been lost, an outcome that should not have occurred. Let me be clear: such actions are utterly unacceptable.
"In this moment, I offer my deepest condolences to the individuals and families that have suffered from brutal attacks, loss of life, injuries, and harassment during this off-cycle election.
"Innocent lives have needlessly been sacrificed on the altar of greed, and this tragedy must not be overlooked. I assure you that there will be consequences for these actions.
"In particular, the news of the murder of a young man, Berepelenyo George Sibo, in Twon-Brass, in the aftermath of this election, is deeply troubling. It serves as a stark reminder of the importance of maintaining peace, stability, and respect for human life during and after an election. Every loss of life is a tragedy, especially when it occurs in the context of exercising democratic rights. We must collectively condemn any act of violence and work towards creating a society where every individual can freely and safely participate in the democratic process."