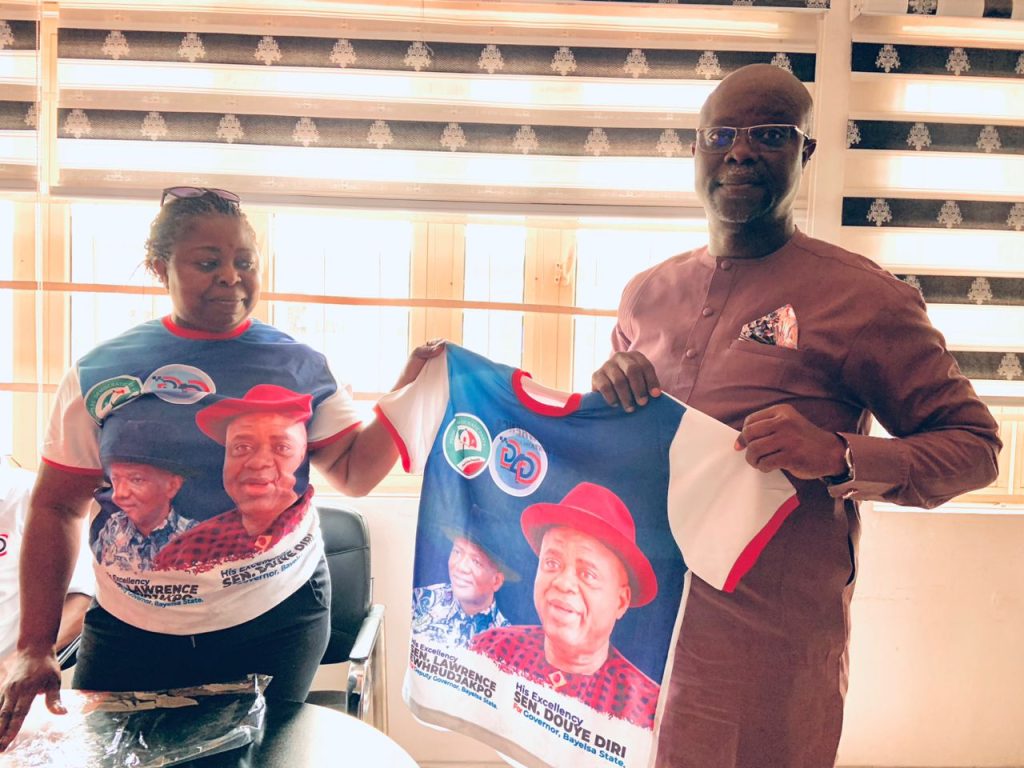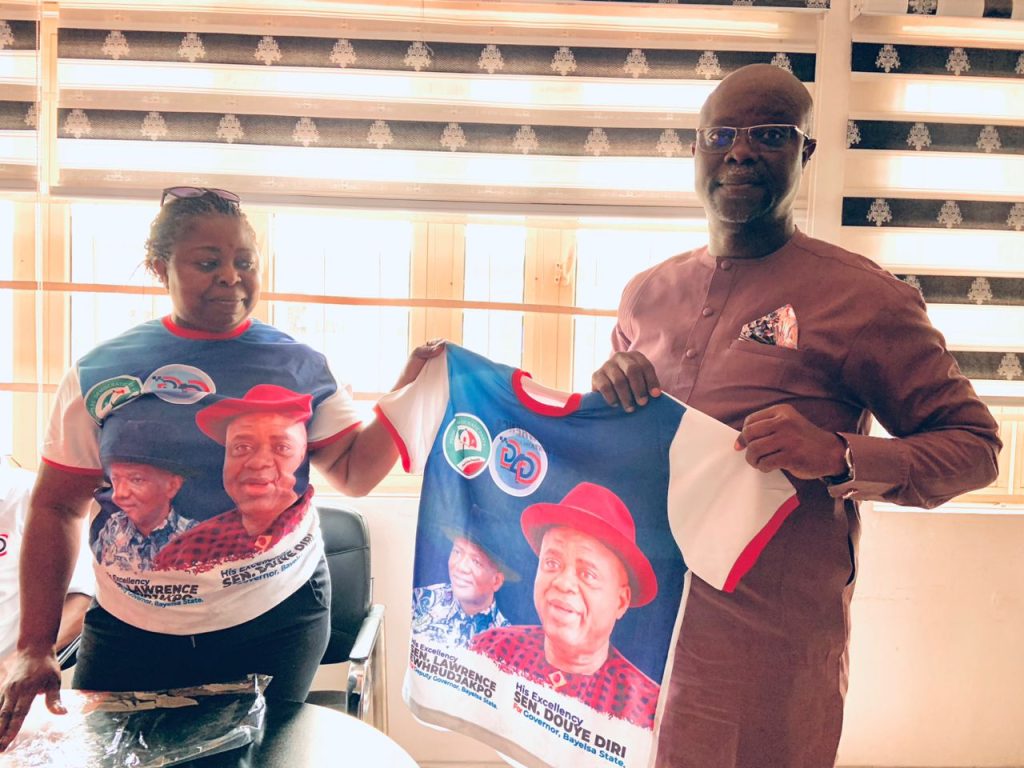 The Chief Coordinator D4D, Dr Dressman Rosalyn Presenting a Branded T-shirt of the NGO to Hon Cocodia Collins
   by Pearl Harold
The Special Adviser (SA) on Political Matters to the Governor of Bayelsa State, Hon Collins Cocodia, has lauded the ideals of a Non Governmental organization, the Diaspora 4 Diri (D4D), charging it to be focused.
Hon. Cocodia gave the charge when the group paid him a courtesy visit, Tuesday, April 18, in his office.
He acknowledged as alien, the style of campaign the group has chosen to embark for Gov. Douye Diri's second tenure bid, pointing out that expansion of the group membership would get things easier for it.
The SA Pol., hinted that a synergy with some relevant ministries like Information and Works and Infrastructure and other sister Non Governmental Organizations (NGOs) would go a long way to actualize the group's objectives.
He called for accurate and factual campaign strategies, as according to him; "Giving the public wrong information about governor's performance would be tantamount to the objective of the group."
Cocodia urged the group's International Coordinator to bring her wealth of experience to bear on the group's stated objectives.
Earlier, the Chief Executive Officer (CEO) of AfricanTide Association (ATA), Dr Rosalyn Dressman, had hinted that the group was in the SA Political Matters office to formally intimate him of the group and its set out objectives.
Dr Dressman said the cardinal focus of the D4D is to campaign massively for Senator Douye Diri's second tenure through raising fund privately to touch the rural areas by providing some social amenities.
She explained that government alone cannot do everything for the people, adding that the group would engage in ; 'provision of sanitary towels, free medical care and empowerment of small scale businesses.'
The Bayelsa State Diaspora Focal Point Officer, said the courtesy visit was also in recognition of the responsibilities of the S.A Pol's office as the engine room of the governor's political matters.
D4D is an offshoot of AfricanTide Association (ATA), created for the sole objective of campaigning for the second tenure of Senator Douye Diri through strategic grassroot mobilization.