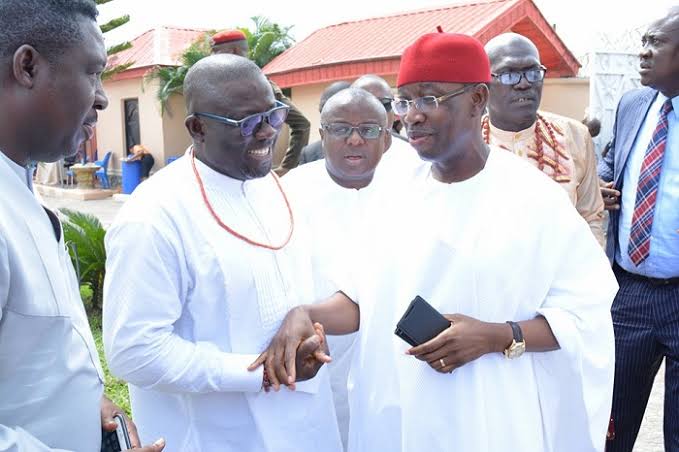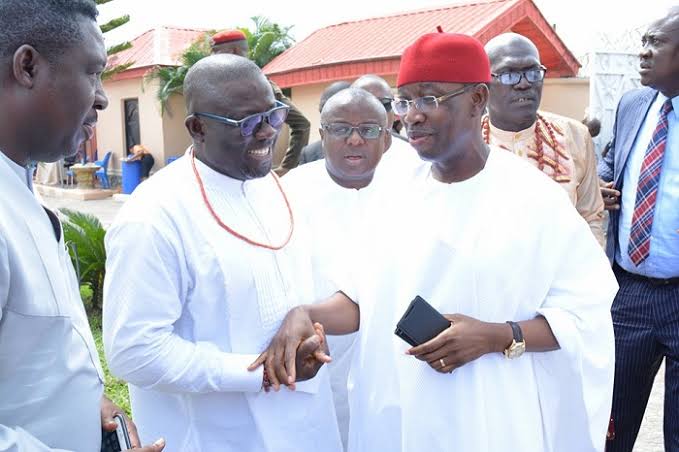 By Fidelis Egugbo
Democracy is really, an interesting game.
The Senatorial primaries of the PDP ahead of the 2003 general elections was keenly contested in Delta North. Then, I was the Arrowhead of the media, packaging Sen. Patrick Osakwe's re-election bid. His greatest opponent was Dr Esther Uduehi in the primary elections of the PDP. That primary election was held three times due to political reasons. The last one was held at the Indoor Hall of Asaba Stadium, now Stephen Keshi International Stadium. Governor Ifeany Okowa, who was a Commissioner then, played key roles in that primary election. On the election day, yours sincerely chronicled why Sen. Osakwe (may God rest his soul) deserved to win that election. Fortunately, Chief Ibori was an avid reader of The Pointer Newspaper and after reading the one page piece, he moved straight from Government House to the stadium. Mr Paul Owumi may recall what happened to the glass door of the indoor stadium on that day.
At the election venue, Chief Ibori made it clear that any Commissioner whose local government's delegates did not vote for Senator Osakwe should consider his appointment terminated on the spot. That was what secured victory for Sen. Osakwe who left the stadium straight to The Pointer Newsroom to say, THANK YOU.
That is the power of the pen when used constructively.
Few days to another election, I am just wondering where we got it wrong in the media space. Is it because of social media that people throw decorum to the wind or just because no one is ready to follow the tortuous journey of libel and defamation? We read lies, character assassinations everyday and in most cases, some of these lies are not in the interest of those they claimed to be defending.
If Rt Hon Sheriff Oborevwori could hold members of the Delta State House of Assembly intact from May 11th, 2017 to date without hiccups, then, one can give him kudos for being a good manager of persons bearing in mind that all the local government areas of the state are represented at the Delta State House of Assembly. Of course, his management acumen was expected, he was the National Treasurer and now the Deputy Chairman of the Conference of Speakers of State Legislatures of Nigeria.
He is a member of the Nigerian Institute of Management (Chartered) and also a Fellow of the Institute of Chartered Mediators and Conciliators (FICMC). He is also, a Fellow, Nigerian Institute of Management (FNIM) and also a recipient of numerous awards, including Merit Award from the National Association of Nigerian Students (NANS) and Lawmaker Of The Year Award by the Independent Newspapers Ltd.
As such, if Deltans are to go by the behaviour and decisions of their representatives in the House of Assembly, Rt. Hon. Sheriff Oborevwori, has already emerged as unopposed.
He began his political career as a Councilor/Supervisory Councilor for Works in 1996 under the old Okpe Local Government Area, which included the present Udu and Uvwie Local Government Areas and was Special Assistant on Youth Development to Governor James Ibori (2003 – 2006); Special Adviser on Land Security to Governor Emmanuel Uduaghan (2007 to 2010); State Coordinator for the Amnesty Programme (2009 – 2010); and Senior Special Assistant on Security to the Governor (2012 – 2014). Haba!
But, again, one can ask some pertinent questions – is it right for Rt. Hon. Sheriff Oborovwori to contest? The answer is obviously, YES. First his people, the people of Okpe Constituency found him worthy to contest for House of Assembly and for two consecutive times, he emerged victorious. At the House of Assembly, the members found him worthy to choose him as their leader, that is, Speaker, and he has comfortably led them since 2017and he is about to lead not just the lawmakers but with the cooperation of well meaning Deltans, he is set to lead all Deltans from Saturday, 18 March, 2023 when he gets most of the votes from the people of the state.
Also, we have heard stories about his educational qualifications including court cases for him to prove if really he is the owner of the certificates that he is brandishing. When one reads such, one wonders how his people, the people of Okpe who knew him more than most Deltans, at least, they knew him from "home" did not raise such issues when he contested. But, obviously, it is like Mr Speaker is more qualified academically than all his opponents so his case is like that of "a ripe mango is what people throws stone at." But, from the way he has managed the state Legislature, will his academic qualifications deprive Deltans from sending him to the Executive arm of government as Governor? The answer is, NO bearing in mind that what is required is a good manager of man and resources to be the Governor of Delta State. His academic qualifications are in order.
As I was writing this piece, I put a call through to the Chief Press Secretary, (CPS) to the Speaker of the Delta State House of Assembly, State PDP Governorship Candidate for the March 18th, 2023 governorship Election and National Deputy Chairman of the Conference of Speakers of State Legislatures of Nigeria, a senior colleague who was with me in The Pointer Newspaper's stable, Comrade Dennis Otu who forwarded detailed certificates of Rt. Hon. Oborevwori who is an Elder in Living Faith Church (aka Winners Chapel) as reproduced below:
"He completed his basic education at Alegbo Primary School, Effurun and later obtained his WASSC at Oghareki Grammar School, Oghareki. Thereafter, he earned a B.Sc. degree in Political Science from Ambrose Alli University, Ekpoma and also an M.Sc. Political Science from Delta State University, Abraka.
In his quest for more knowledge, experience, capacity building and self-development, he attended various courses and obtained certificates from various institutions including:
*Certificate in Top Executive Leadership Programme, Manchester Business School, UK;
*Certificate in Legislative Framework for Budget Management, Georgia Institute of Technology, Atlanta, USA;
*Certificate in Legislative Management and Leadership, International Law Institute, Washington DC, USA;
*Certificate in Leading Inclusive Development, London School of Economics and Political Science, UK;
*Certificate in Advanced Leadership Programme, University of Cambridge, UK;
*Executive Training on Advanced Leadership and Communication School of Oriental and African Studies, University of London; among others. "
So, academically, Rt. Hon. Sheriff Oborevwori parades an array of certificates from well known institutions within and outside the country
Rt. Hon. Oborevwori, is a happily married man and proud grand-father. It takes a lot to play these roles effectively and he has also, not failed to dedicate his successes to God.
As Deltans come out to choose who will govern them as from May 29th, 2023, who will they choose? Someone who has always been with them, someone they have known all along and are aware of what he is capable of doing or someone they knew little about?
What is the interest of Governor Ifeanyi Okowa in the governorship elections? Follow us for more as we pray for God's guidance and protection as we elect our Governor and House of Assembly members on Saturday, March 18, 2023.
Fidelis Egugbo, the writer, is the Special Assistant, Media to Governor Ifeanyi Okowa of Delta State