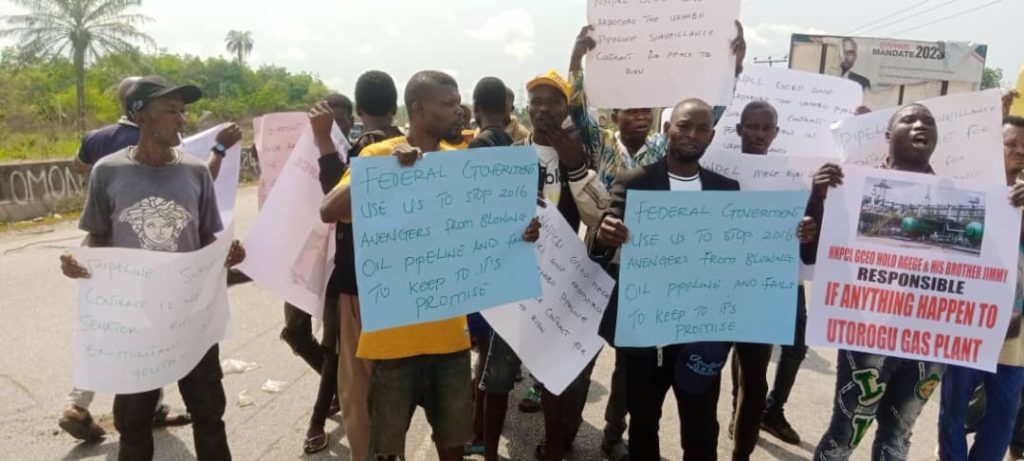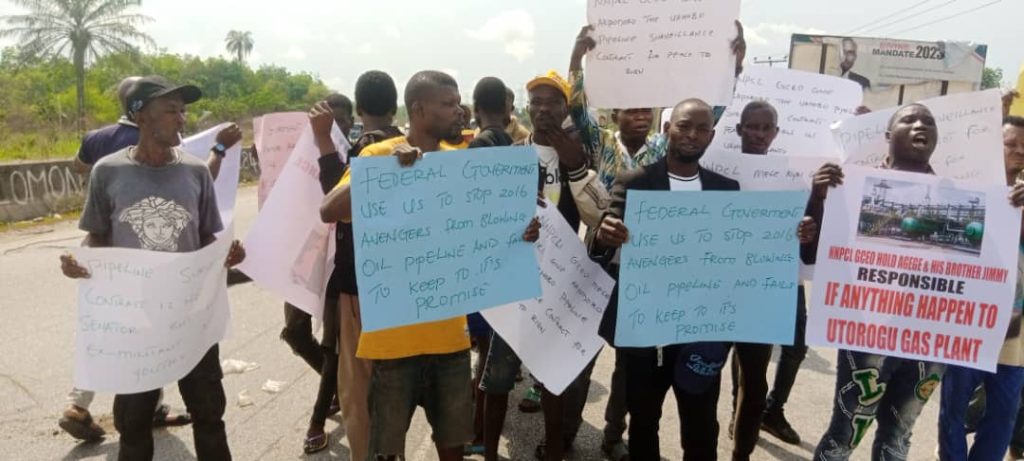 By Correspondent.
A group, National COALITION OF NIGER DELTA EX- AGITATORS, has staged a peaceful protest over an alleged hijack of pipeline surveillance contract belonging to the Urhobo ethnic Nation.
The ex-Agitators formed a human barricade that slowed the movement of vehicles for several hours at the East west road by Uvwiamuge junction in Ughelli North local Government Area of Delta State .
The Ex-Agitators claimed that the senator representing Delta Central Senatorial District and Governorship Candidate of the All Progressives Congress (APC) Senator Ovie Omo-Agege hijacked the surveillance contract meant for ex-militants leader And mayor of Urhobo land General Israel Akpodoro.
Some of the e I'mx-Agitators including Urhobo security network coordinator, Chief lucky Odoh, Mr Owarien Kesiena, Mr Jerry Opote and
Mr Darlington Awhelu alleged that Senator Omo-Agege gave the pipeline surveillance co ILntract to his younger brother, Jimmy Omo-Agege, whom they also alleged, is the Chief Executive Officer of Zane Energy.
They further expressed dissatisfaction with the award of contract, noting that the Nigerian government awarded security contracts for pipelines in Ijaw and Itsekiri land to rightful persons, including ex-militants, but awarded that of Urhobo land to Senator Omo-Agege .
They noted that General Akpodoro stood firmly against a militant group known as Avengers that were terrorizing oil pipelines in Urhobo communities and so deserved the pipeline surveillance contract .
The Ex -agitator called on the Federal Government and NNPCL to withdraw the contract from Senator Omo-Agege and give to the ex-militants leader General Akpodoro for the sustenance of peace in the Bigger Delta Area .
The Ex-Agitators said they would not vote for the APC Governorship candidate, Senator Omo-Agege, because of the surveillance job he allegedly hijacked .
They said they would vote for the Peoples Democratic Party (PDP) candidate Rt. Hon Sheriff Oborevwori in the forthcoming Governorship election .